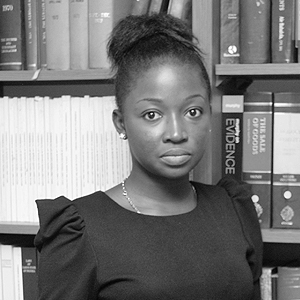 Nutting out a strategy which will deliver her clients the right result, at the right level of detail, with the greatest efficiency is what matters most to Monica Nweke. It's a straightforward, pragmatic and street-smart approach to practice that assures her clients they are in safe hands, and it's one that they clearly value. She advises on a broad range of company, commercial, debt recovery and insolvency matters. She has also acted in several enforcement and foreclosure matters involving obligors to the Asset Management Corporation of Nigeria (AMCON). She is currently pursuing a post graduate certification with the Institute of Chartered Secretaries and Administrators.
Jurisdictions
2013 Admitted as a Barrister and Solicitor, Supreme Court of Nigeria.
Education
2012 LL.B (Hons) University of Nigeria, Nusuka, Nigeria.
Areas of Practice
Insolvency Law Commercial Litigation Company/Commercial Law