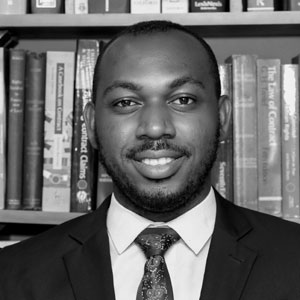 Chukwudi Unah is a Barrister and Solicitor of the Supreme Court of Nigeria. He graduated from the University of Nigeria, Nsukka and was called to the Nigerian Bar in 2019.
While an undergraduate student, he held leadership positions as a Legislative Member of the SUG House of Representatives and Secretary-General of the Students' Union Government (SUG).
At the Nigerian Law School, he was a member of the Students Representatives Council (SRC) and President of the Human Rights Committee of the Bagauda Law Clinic.
He is an astute lawyer with interests in consumer and commercial transactions, policy advisory on capital market, taxation, international law, medical, labour and employment law.
He is a vast reader and researcher and has published articles on his interests. He implores his skills in solving clients' challenges, as he believes that knowledge of the law is only helpful when it is applied to solve problems.
He is a member of the Nigerian Bar Association.